The final of the World Cup 2015 is upon us. On this Sunday, all the eyes of the cricket world will focus on the Melbourne Cricket Ground. It is a local rivalry in a global context: New Zealand vs Australia. You can label it in whatever way you want it: the trans-Tasman contest; David vs Goliath, Kiwis vs Kangaroos. But in the end it boils down to how New Zealand's new found fearlessness fares against Australia's habitual bullishness. This New Zealand side can match their big brother neighbor in every aspect on a cricket field – in fact they can claim upper hand in spin-bowling stakes.
Live Score: Australia vs New Zealand Cricket World Cup Final Match 2015
The desperate Kiwis
New Zealand will be more desperate to win the cup too. It is not too often that you find New Zealand in the summit clash of a global tournament. They have won Champions Trophy in 2000, beating India in the final. That is the only silverware of global repute they have in their cupboard. They would kill to make this opportunity count.
Australia, on the other hand, is the evergreen favourite to win almost any global cricket tournaments. Four time world cup winners, six time finalists – they are no strangers to the pressures of World Cup finals. However, in the current squad, only skipper Michael Clarke has featured in a World Cup winning squad.
New Zealand has one more reason to win. Martin Crowe, who almost won the world cup for the Kiwis in 1992, is suffering from cancer. By all accounts, his life is at its end. In 2011, India made it a point to win the world cup for Sachin Tendulkar, who was approaching the twilight of his career. In 1992, Imran Khan made it an agenda of winning the world cup for starting a cancer hospital in memory of his mother, who had succumbed to cancer. New Zealand would love to win it for Crowe; in any case, they would not want to let go a chance to make the rugby-mad country cricket crazy for a few days.
Head to head statistics
Australia usually finds a way to win against New Zealand – that is what the head to head statistics indicate. The Aussies have tasted victory in 85 of 125 matches they played against New Zealand. In world cups, it is 6-3 in favour of Australia.
However, in recent times they have not crossed paths often. In fact, they have not met each other at all between the 2001 World Cup in India and this one. Australia won in India and New Zealand returned the favour earlier in the world cup. New Zealand won that match by the skin of their teeth by a single wicket. Still, they appeared the stronger team in that match. Both the teams will have an air of unfamiliarity with each other.
Preview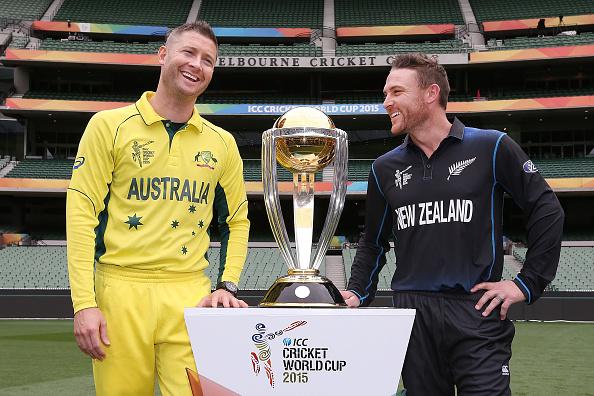 The pitch in Melbourne usually suits batters and fast bowlers. But spinners found good purchase from the pitch in the quarter final match between India and Bangladesh. New Zealand will hope that Daniel Vettori and, to a less extent, Kane Williamson will extract enough turn and bounce from the pitch to make the Australian batters nervous. If Australia has any weakness, it is against spin. Sri Lanka exploited in the 1996 final. India has done the same in numerous occasions in the recent past.
New Zealand is the only side in the tournament that has won all their matches in the tournament. They are good in defending totals, and they are better in chasing totals. The team does not have any apparent weakness. Their bowling has sting and variety. Their batting is a potent mixture of class and aggression. And they field like gymnasts.
Australia too ticks almost all these boxes. Perhaps they lack variety in bowling. They do not have a good spin bowler. But their pace bowling is as good as New Zealand's, if not better. A key factor of the match is going to be the battle between Australia's bowlers and New Zealand batsmen. Whoever wins this battle is likely to lift the world cup crown.
Players
Who will be the heroes of this world cup? History will have a special place for the men who perform well of world cup finals – Clive Lloyd, Viv Richards, Mohinder Amarnath, Steve Waugh, Wasim Akram, Aravinda De Silva, Adam Gilchrist, Ricky Ponting, Glen McGrath, and MS Dhoni all are those special players who have left their signatures on world cup finals. Who will join them this time? Brendon McCullum? Corey Anderson? Trent Boult? Kane Williamson? Or, Glenn Maxwell? Steven Smith? Mitchell Starc? David Warner?
History beckons for any of these players. Our long shot is Luke Ronchi, the Australia-born New Zealand wicket keeper.
Prediction
We go with the entire community of neutral fans in the world of cricket: New Zealand to lift the World Cup 2015 trophy.
Live Score: Australia vs New Zealand Final Match Cricket World Cup – 29th March 2015
Follow Cricket World Cup
Cricket World Cup 2015 | Cricket World Cup Schedule 2015 | Cricket World Cup Squads 2015 | Cricket World Cup Points Table 2015